Ready to retire? It can be a time for new adventures, whether taking up an exciting hobby or finally getting around to your business idea. Before diving in headfirst, here are nine surprising facts about retirement – from the most popular post-retirement activities to the age group hitting those milestones faster than any other.
Retirement plans come in all shapes and sizes, but one of the most common standards is age 65. This comes from Germany's influence on retirement laws, who originally set their own at 70 before eventually reducing it to 65 – a milestone many worldwide have since adopted. (1)
As the baby boomer generation ages, a new landmark is coming. Approximately 10,000 boomers will turn 65 every day between now and 2030 – that's almost one person every 8 seconds. (2)
Our nation's population, ages 65+, is quickly flourishing! In 2019, an impressive 54.1 million Americans were in this category – and by 2040, that number is estimated to skyrocket to 80.8 million strong. (3)
In 1937, Ernest Ackerman became the first to receive a Social Security benefit! The innovative motorman from Cleveland worked one day under SS and earned $5. By contributing 5¢ in payroll taxes, he received an impressive 3.5% return – 17¢ was his reward for being part of this historic milestone program. (4)
Nearly four out of five retirees feel secure about their financial security in retirement, feeling confident that they'll have the funds to live a comfortable lifestyle. (5)
With a median cost of $4,500/monthly, 7 out of 10 people will likely require some form of extended care during their lifetime. (2)
With over 64% of retirees using Social Security to support their primary source of income, the average projected monthly benefit for 2022 is estimated at $1,614. (5,6)
This year saw a record number of centenarians at 92,000 strong. By 2060 the blessing is expected to grow nearly sevenfold – with 589,000 members in its ranks. (7)
Many seniors enjoy their golden years in front of the TV – they spend an average of four hours a day watching and relaxing. (8)
As the 65-and-older population continues to grow and become more influential, it's critical that you make decisions now for your healthcare security and financial stability. Is your current plan adequate? Are there changes that need to be implemented in order to best prepare yourself financially? A good strategy could give you greater control over how well-prepared you are personally and professionally as life progresses.
At Heritage Financial Planning, we understand how important an effective financial plan is. That's why our HFP S.T.A.R Strategy goes above and beyond — providing complete coverage of all five aspects required for a successful long-term planning strategy! With Heritage Financial Planning in your corner, you can rest assured that no detail has been left out when crafting the perfect game plan to achieve financial success now and in the future.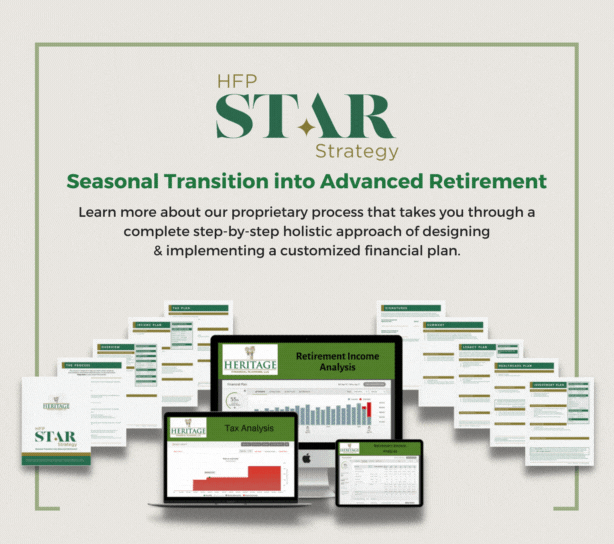 Click here to learn more about our HFP STAR Strategy process.
You've accomplished a lot in your life so far, and we want to help you ensure that all your hard work pays off. With our HFP S.T.A.R Strategy, we can help you tailor a plan that fits your unique needs and gives you peace of mind knowing that you are prepared for whatever life may throw your way. Schedule an appointment with us today to get started on creating your custom HFP S.T.A.R. Strategy, today.
---
Sources:
1. SSA.gov, 2022
2. Genworth.com, 2022
3. ACL.gov, May 4, 2022
4. Social Security Administration, 2022
5. Employee Benefit Research Institute, 2022
6. SSA.gov, 2022
7. Statista.com, August 3, 2022
8. BLS.gov, 2022